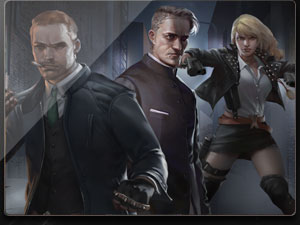 [
TM DATA SHEET
]
For the Lieutenant, see Mastermind.
The Mastermind is available once you have completed the Old Foes job in the Italy area, giving you the Master Cellphone.
Basic Information
Edit
Maximum Participants: 17
Boss Fight Time: 96 hours
Rewards Collect Time: 48 hours
Maximum Collectible Empire Points: 558,000 (per person over highest epic threshold)
Over hitting past the last threshold will reduce the overall empire points available to other players.

Boss has high aggro, expect to receive more damage when attacking.

RECOMMENDED CLASS: Assassin
Speed Kills
Edit
1 Star: 27:10:35
2 Star: 10:43:28
3 Star: 4:57:13
7,300 points

18,000 points

25,000 points
Completion Dialogue
Edit
Ad blocker interference detected!
Wikia is a free-to-use site that makes money from advertising. We have a modified experience for viewers using ad blockers

Wikia is not accessible if you've made further modifications. Remove the custom ad blocker rule(s) and the page will load as expected.