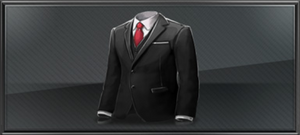 Looks like a 3 piece suit. Blocks armored piercing rounds!
Attack: 3
Defense: 10
Obtained From: the Shop from level 15

Rarity: Common
Initial Cost: $4,000
Cost increases by 10% for each of the item you own. It can be reduced by buying Arms Factories


There is an Achievement for owning 200 Bullet Proof Suits.
Ad blocker interference detected!
Wikia is a free-to-use site that makes money from advertising. We have a modified experience for viewers using ad blockers

Wikia is not accessible if you've made further modifications. Remove the custom ad blocker rule(s) and the page will load as expected.