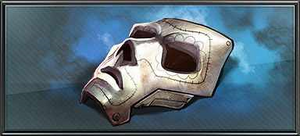 Some believe that an evil spirit gives the wearer the power to momentarily enter the undead realm. Perhaps is this how the wearer of this mask is able to get away with murders.
Attack: 16
Defense: 16
Power: +8 Stamina with Joaquin [no stack]

Obtained From: Can be bought from the Black Market for 20 FP

Rarity: Uncommon
Initial Cost: N/A

Ad blocker interference detected!
Wikia is a free-to-use site that makes money from advertising. We have a modified experience for viewers using ad blockers

Wikia is not accessible if you've made further modifications. Remove the custom ad blocker rule(s) and the page will load as expected.