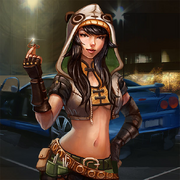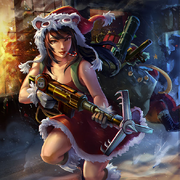 A lockpicking prodigy who only needs a paperclip to open any lock. Has an obsessive affinity for pandas. Hotwire's favorite hobby is boosting expensive luxury cars that don't even use mechanical locks. She can boost her way through cars, ATM's. bank vaults and maximum security prisons.
Alignment: Dragon Syndicate
Special Ability: Chance to steal % of cash from opponent's bank (max $2m). Note that the chance to steal applies to each Stamina point spent.
Stats:
Stars
Stats at level 1
Max Level
Stats at Max Level
Power
Attack
Defense
Attack
Defense
1
16
24
10
25
33
On Win: 1% to Steal 1% of Bank
2
20
29
15
34
43
On Win: 1% to Steal 1.5% of Bank
3
24
35
20
43
54
On Win: 1% to Steal 2% of Bank
4
28
42
25
52
66
On Win: 1% to Steal 2% of Bank
5
34
50
35
68
84
On Win: 1% to Steal 3% of Bank
6
40
60
50
89
109
On Win: 1% to Steal 4% of Bank
7
48
72
75
122
146
On Win: 1% to Steal 5% of Bank
8
58
86
100
157
185
On Win: 1% to Steal 6% of Bank
9
69
104
150
218
253
On Win: 1% to Steal 7% of Bank
Obtained from:

Item(s):