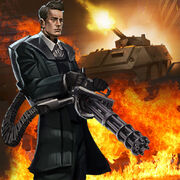 As Victor's right hand man, Hugo rarely speaks - making him a deadly, silent, and no-nonsense killer. He once eliminated an enemy's entire headquarters without a trace of warning or resistance.
Alignment: The Mafia
Special Ability: Increases Player Energy per Dragon Syndicate Member owned
Stats:
Stars
Stats at level 1
Max Level
Stats at Max Level
Power
Attack
Defense
Attack
Defense
1
30
30
20
49
49
+1 Energy per Syndicate Member
2
30
3
45
4
60
5
80
6
110
7
150
8
250
9
350
Obtained from: Not yet obtainable
Item(s):

Ad blocker interference detected!
Wikia is a free-to-use site that makes money from advertising. We have a modified experience for viewers using ad blockers

Wikia is not accessible if you've made further modifications. Remove the custom ad blocker rule(s) and the page will load as expected.