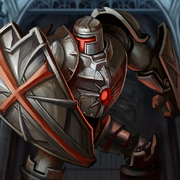 With ironclad will, Palladium is the epitome of physical resistance. With faith as his shield, he gladly stands in defiance to all that would oppose his masters. It also helps that his adamantine armor can withstand the impact of a high speed train collision, but who's to judge?
Alignment: Unaffiliated
Special Ability: Increases Enforcer XP and auto-heals
Stats:
Obtained from:

Item(s):

Ad blocker interference detected!
Wikia is a free-to-use site that makes money from advertising. We have a modified experience for viewers using ad blockers

Wikia is not accessible if you've made further modifications. Remove the custom ad blocker rule(s) and the page will load as expected.