Ad blocker interference detected!
Wikia is a free-to-use site that makes money from advertising. We have a modified experience for viewers using ad blockers

Wikia is not accessible if you've made further modifications. Remove the custom ad blocker rule(s) and the page will load as expected.
For the boss, see Skull King (Boss).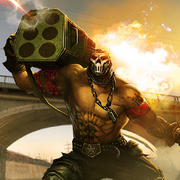 Not much is known about the mighty and powerful Skull King, though he is widely believed to be ex-military. He believes in utter and complete destruction of his enemies and annihilates them with extreme fire power. He is the king of his domain and no one has dared to challenge his authority and lived to tell the tale.
Alignment: Street
Special Ability: Auto Heal in Boss Fights (if cash is available)
Stats:
Stars
Stats at level 1
Max Level
Stats at Max Level
Power
Attack
Defense
Attack
Defense
1
30
30
35
64
64
2x Damage & Stamina Use in Boss Fights and Autoheal with 1% discount (does not stack with Duke)
2
40
40
50
89
89
2x Damage & Stamina Use in Boss Fights and Autoheal with 2% discount (does not stack with Duke)
3
54
54
75
128
128
3x Damage & Stamina Use in Boss Fights and Autoheal with 3% discount (does not stack with Duke)
4
71
71
100
170
170
3x Damage & Stamina Use in Boss Fights and Autoheal with 4% discount (does not stack with Duke)
5
150
6
200
7
300
8
450
9
650
Obtained from: Purchasable for 155 FP as part of the 1 Year Anniversary event
Item(s):