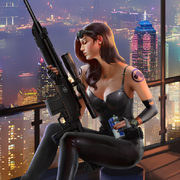 Wraith's past is shrouded in mystery. Rumour has it that she racked up a body count in the triple digits before terminating the contract with her previous employer, quite literally.
Alignment: Street
Special Ability: Boosts Sniper XP in boss battles only. (Not EvE) and auto-heals
Stats:
Obtained from:

Item(s):

Ad blocker interference detected!
Wikia is a free-to-use site that makes money from advertising. We have a modified experience for viewers using ad blockers

Wikia is not accessible if you've made further modifications. Remove the custom ad blocker rule(s) and the page will load as expected.